Another Apple Store is about to open in China (Video)
33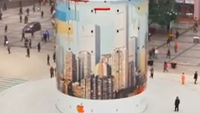 About a week ago, we showed you a video about a new Apple Store opening in China. Apple plans on launching five stores in the country before the start of the Chinese New Year on February 19th, and the Apple Store West Lake location has just been opened. The video we showed you focused on Wang Dongling, an artist who specializes in calligraphy.
Wang was using his special talents to decorate the store
just before
a huge throng appeared to witness the grand opening
.
The next Apple Store that will open in China is the Apple Store, Jiefangbei. Apple got two artists to work together, helping it decorate the new retail location. Photographer Navid Baraty and painter Yangyang Pan joined forces despite both being from different cultures, and having expertise in different mediums. Pan painted over Baraty's photographs to create a different style of art.
Jiefangbei is located in the downtown area of Chongqing, where the Yangtze and Jialing Rivers come together. Click on the video below to see a talented photographer and a talented painter come together to celebrate another new Apple Store in China. The tech titan is looking to open 25 retail locations in the country before the end of next year.
source:
Apple