Anker's 26,800mAh power bank is on sale from Amazon for just $59.99
14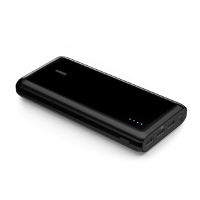 If you're looking for a way to power your mobile device for hours while away from civilization and an outlet, you might want to consider Anker's Astro E7 power bank. With a capacity of 26,800mAh, the Astro E7 can charge the
Apple iPhone 6
ten times. The
Apple iPhone 6s
and
Samsung Galaxy S6
batteries can be topped off six times using this power bank, and even the large cell inside the
Apple iPad Air
can be brought to 100% twice.
The Anker Astro E7 has a list price of $199.99. Amazon usually has the device priced at $119.99. Now, you can pick up this massive power plant for the incredibly low price of $59.99. That is a 70% discount from the list price. For less than $60, you're getting a power bank that will safely charge your device at a speed as fast as 3amps depending on your device.
If you're a power user, or even if you just feel better seeing your battery icon filled to the top, this might be the best $59.99 you've ever spent. Surely we don't have to remind you how often you rely on your handset or tablet during the course of a day. Not every phone or tablet is well endowed when it comes to battery capacity, which makes the Astro E7 the most important accessory you can buy for your device. And since everyone knows at least one guy or gal whose smartphone battery is dead before dinner, the Astro E7 makes a great holiday gift.
If you're interested in no longer having to worry about how much battery life you have left on your mobile device, click on the sourcelink.
Anker's Astro E7 will charge your iPhone 6s up to six times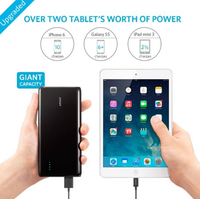 Thanks for the tip!
source:
Amazon