Angry Birds and other Rovio games impersonated by Android Market scammers
33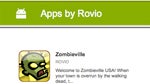 Earlier today scammers attempted to take advantage of consumers in the Android Market.
The good news is that Google acted quickly and has already removed the offending apps
, but this still provides a cautionary tale on protecting yourself when you purchase apps.
The scammers used the name "Rovio" rather than "Rovio Mobile Ltd.", and created app names that were similar to legitimate games, like "Angry Birds 3D". Individuals who bought the fake game were left with non-working apps and were initially unable to get a refund (although we imagine Google will step in here to set things right).
Not everyone can be expected to memorize the names of the legitimate companies (especially if you're new to buying apps for a smartphone), so
here are a couple of things to keep in mind if you're concerned that an app may not be legitimate:
Check Reviews

: They are there for a reason. If something is a scam it's likely that people who have been burned will leave comments to that effect.

Check Permissions

: If you are downloading a flashlight app but the permissions ask for access to your personal information and to read and write to your contacts list, something's probably amiss.

Check out the number of times an app has been downloaded

. If you are getting an app (like Angry Birds) that is supposed to be a huge hit, but it's only been downloaded a couple thousand times, something stinks.
Checking just these basic things should protect you against most scams and malware, but it's worth noting that if you are really concerned about scams (and less concerned about openness) you can get your apps from the Amazon App Store. Amazon's store has fewer apps available, but they spend more time vetting them so there's less chance of getting scammed there.
source:
the gadgets
via
Tech Crunch