Angry Birds Blast Review
1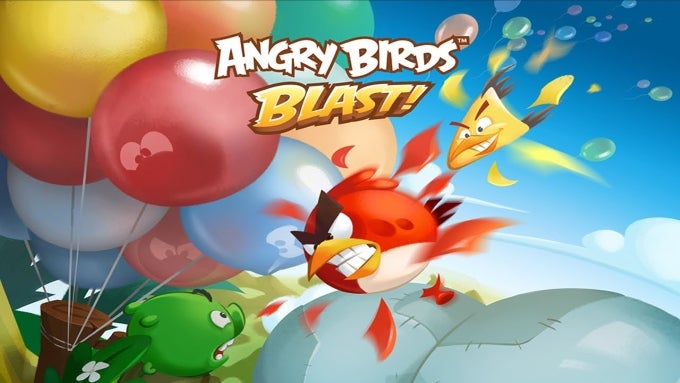 The Angry Birds money train is rolling, and it's rolling fast. One and a half years after its release,
"Angry Birds 2"
is still in the Top 100 grossing apps for both Android and iOS.
"The Angry Birds Movie"
has a box office of nearly $350 million, which is five times its budget. And Rovio continues to dish out Angry Birds spin-offs every few months.
The latest one is called
"Angry Birds Blast"
and it's a rather generic balloon popping game. The gameplay is just like that of most other games of the genre. Tap clusters of balloons with the same color to pop them. You have limited moves per level and a set goal. For example, the game could ask you to pop 20 red balloons in 10 moves, or transport four eggs to the top of the game board.
The different balloons hold Angry Birds trapped in them and, according to the limited plot that we got in the tutorial, your end goal is to free all birds and defeat the evil pigs.
There are various power-ups (called Boosters), such as bombs, rockets and slingshots that allow you to pop either more balloons at once, or specific ones that will help you advance in the level. There are also obstacles that resemble the pieces that pigs make their forts with in the original games. This helps the game capture the spirit and feel of an actual Angry Birds title, especially paired with the level selection screen that looks just like the world map from
"Angry Birds 2"
in its style and execution.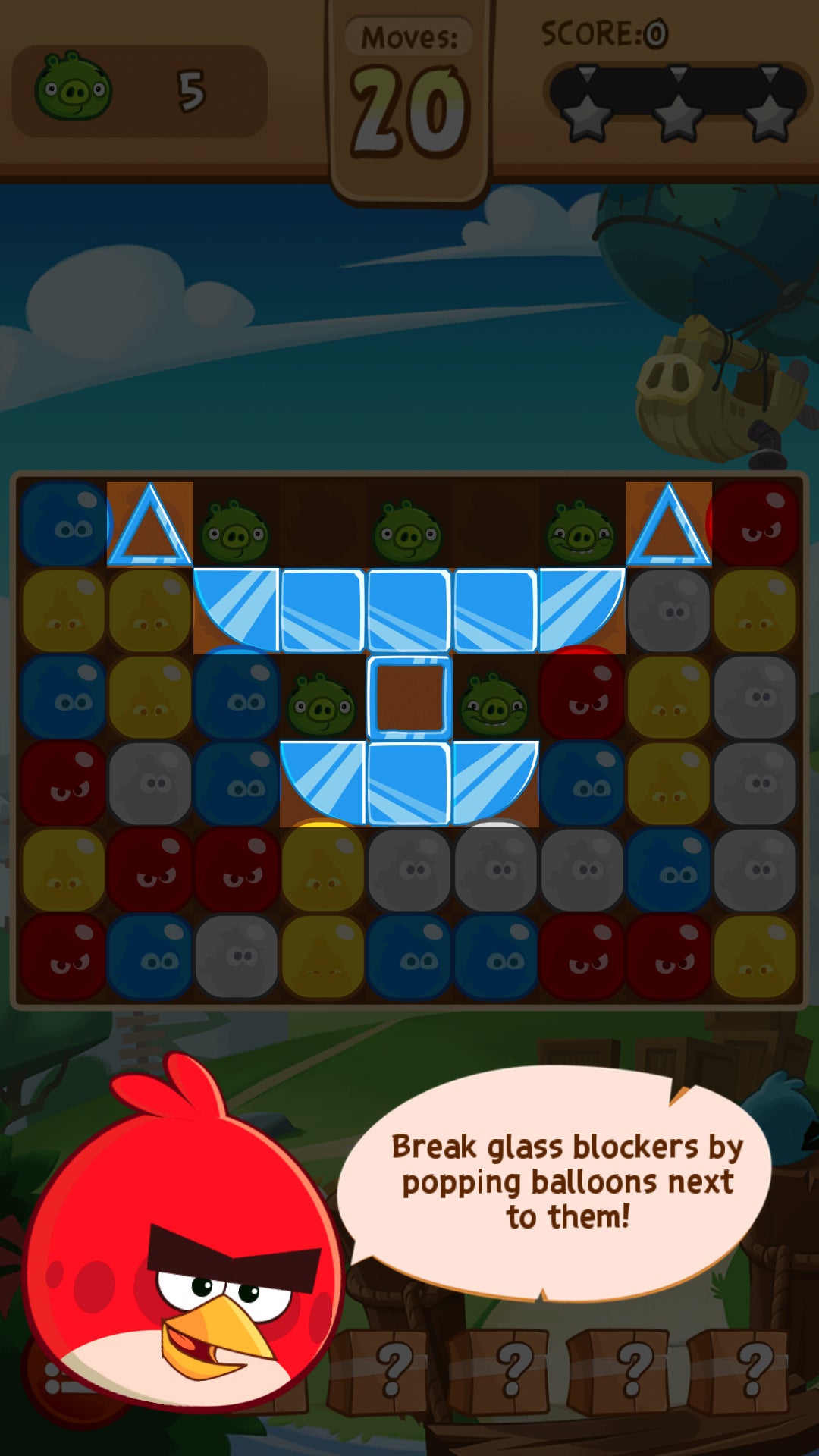 Red will provide you with helpful tutorials along the way.
There are two main game modes you can play – the main campaign, and daily and weekly challenges. Both work pretty much the same way. The difference is that the challenges feature crates that you break by popping a balloon next to them. The crates contain various power-ups, including additional moves. So, if you're lucky and you manage to open enough crates, you could go on for hundreds of moves. Daily challenges award you with Silver Coins and Boosters that you can use in your next game, depending on your performance.
Speaking of coins, there are two kinds – the regular in-game currency is Silver Coins and it's used to purchase Boosters. Silver Coins are awarded from crates around the world map, that you have to tap repeatedly, or for completing levels and quests. Gold Coins are the premium currency, which you buy with actual money. It can be used to buy Silver Coins, or to replenish your lives. If you fail a level of the main campaign, you lose one live, and if you have none left, you can't start the next level.
But don't go breaking the piggy bank just yet, because the wait times for additional lives are not too long. You can go have a cup of coffee, and once you're done, you'll be able to continue playing.
Overall, the in-app purchases are not heavily enforced and your game won't rely on them too much. Even with additional Boosters at your disposal, the game is sometimes tricky, so you won't benefit from the purchase of Boosters enough to justify spending actual money on the game. That's definitely a plus in our books.
In the end of the day, while enjoyable, this is not an Angry Birds game as you know them. Rovio just dished out a generic balloon popping game with some Angry Birds graphics on top. And while the game is actually a good way to kill some time, it's really nothing special. It doesn't stand out from its rivals in the genre, such as Candy Crush Saga or Home: Boov Pop, in any way.
"Angry Birds Blast"
is free-to-play with in-app purchases, so you can go ahead and try it out right now on iOS and Android. But, honestly, we don't expect it to top any charts. And if it does by some miracle, it will only because of the Angry Birds name.