Android versions distribution stats: Lollipop still wildly unpopular, KitKat climbs to 39%, but Jelly Bean dominates
32
Google's Android team has been consistently providing info regarding the relative popularity (or unpopularity) of the various versions of the operating system among the installed based, and we just received the stats for January.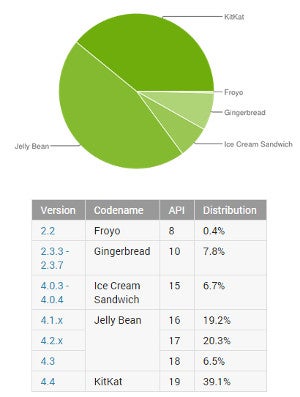 We can't say the situation has improved much since the last update in December – sure, Android KitKat's share climbed to 39.1% from 33.9%, but Android 5.0 Lollipop is once again nowhere to be seen. Google doesn't list versions with less than 0.1% adoption, so we have to assume that's the reason why Lollipop hasn't made the cut. A rather depressing thought.
Going back to KitKat, while it is obviously gaining steam, do keep in mind that the majority of the installed base (46%) actually runs on one of the various versions of Android Jelly Bean, the earliest of which was released two and a half years ago. The remainder of users are split between Android 4.0 Ice Cream Sandwich (6.7%), Android 2.3 Gingerbread (7.8%), and Android 2.2 Froyo (0.4%).
We won't lie, the stats above made us a little sad. Sure, we're well aware of Google's continued efforts to decouple various Android services from the core (in order to be able to push updates through the Play Store and not have to wait for a major OTA patch), but it's fair to say that the majority of users have no clue that's the case, anyway. Yes, they're still getting the benefit of those updates through the Play Store even if they're oblivious to that fact, but this whole situation is obviously turning into a perception issue, and we, for one, are hoping that a solution will eventually be found.
Recommended Stories