Android users are twice as likely to choose the iPhone 6s over the iPhone 7
71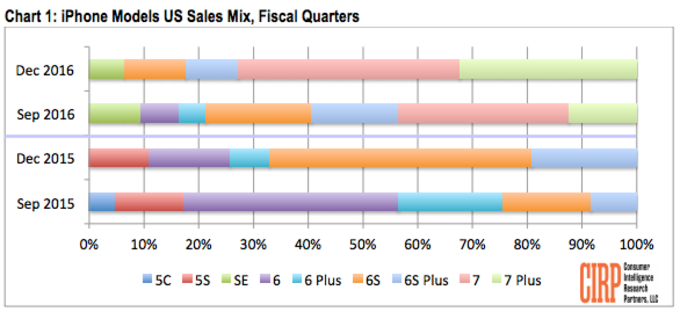 According to a quarterly report released on Thursday by market research firm Consumer Intelligence Research Partners, users switching from Android devices account for 15 percent of the iPhone 7 and 7 Plus' sales, consistent with last year's 14 percent for the then-new 6s and 6s Plus. These numbers were taken from a sampling of 500 Apple customers during the 2016 holiday season.
The report shows the newest models are actually more popular among iPhone buyers than their predecessors were in 2015, comprising 72 percent of overall iPhone sales, a 4 percent increase. The less powerful iPhone SE, however, had a smaller percentage of sales compared to the iPhone 5s last year, suggesting a possible increase in average selling price for Apple's smartphone line.

What's interesting is that, for the 2016 holiday season, the percentage of Android converts among 6s and 6s Plus buyers is almost twice that of their successors, which can be explained in one of two ways: either loyal iPhone users are more likely to upgrade to the latest models, or Android users find the 6s and 6s Plus the better iOS entry point. The truth, as is usual, probably lies somewhere in the middle: more than 80 percent of the newest models' buyers are upgrading from a previous Apple device, while that number for the 6s and 6s Plus is just above 60 percent.

A factor in the relative unpopularity of the iPhone 7 line among Android users, when compared with its predecessor, could be Apple's decision to remove the headphone jack in its devices, which was met with widespread criticism among tech enthusiasts. This year, the company is expected to be making even more changes to its formula, and it remains to be seen whether they'll receive a similar treatment. We have a full roundup of
all the information we have about the upcoming iPhone 7s, 7s Plus and iPhone 8
, and will keep you up to date with the latest rumors and leaks.
via
BGR