Android users: Are you using a custom ROM? (poll results)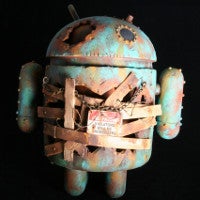 While Google's layer of apps is branded and proprietary, everything else that you've come to recognize as Android is completely free to use and modify. Which explains the existence of a vibrant sub-culture of Android modders and enthusiasts, who just love messing around with their devices and shun stock options.
How big of a community are we talking about, though? It's definitely in the millions, though there's honestly no real way of knowing for sure. In any case, it's quite likely a tiny proportion of the gigantic Android ecosystem, which now spans billions of devices. Given how our own community here at
PhoneArena
is hardly made up by a bunch of your average Joe's, we wondered just how common custom ROMs are among you guys.
So we asked
.
According to the results — and those sure surprised us — out of the 1601 voters, 43.66% of participants do use a custom ROM, which, again, was pretty unexpected. The remaining 56.34% obviously don't. Still, even after accounting for the fact that we have quite a few techies around here, and even though we know that those same techies are more engaged with our polls, we still didn't quite expect as many people to indicate they use a custom build. Sure, this isn't a representative sample, but still something to keep in mind.