Android-touting Nokia X (Normandy) more likely than ever, as it gets certified in both Indonesia and Malaysia
27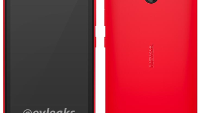 There's nothing like a good back-and-forth mystery, and the Nokia X (also known as Nokia Normandy) proved to be top of the class in the genre. Starting out as a fragile rumor,
the Android-powered Nokia X has continued to direct attention towards itself
, as more and more information is revealed almost on a weekly basis now. We've seen this happen before, and, generally speaking, when as much intel starts leaking, we're usually not just on the right path -- the device itself is close to making an official entry.
As of today, we can add another rather substantial piece of evidence that seems indicates to that the Nokia X is fact, not fiction. A Nokia device with a model number of RM-980 has passed through Malaysia's certification body, not long after we initially heard that it has gone through Indonesia's equivalent agency.
Now, the RM-980 code name means little on its own, but
this exact moniker happens to be the one that was caught making a pass through Rightware's BrowserMark benchmarking suite not long ago
. What's more, the RM-980 was spotted making use of Chrome for mobile, a browser that isn't available on Windows Phone 8. This is as good an indication that the Nokia RM-980 is powered by Android as we're ever going to get. What's more, with the MWC now firmly on our radar, the rumored venue for the Nokia X's official unveiling, it sure makes sense that we're starting to witness some more tangible evidence that, against all odds, a Nokia-built, Android-touting device is on its way. As to how much of an Android that will be, remains to be seen -- word on the street is that it'll be a highly customized fork of the open-sourced OS without access to Google's Play services framework.