Android stats update: 1 billion 30-day users, 62% tablet market share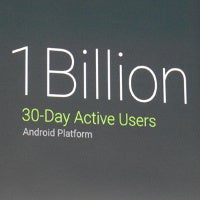 Android head Sundar Pichai has kicked off
Google I/O 2014
with some status updates about the platform, and there's plenty of good news for Android users and developers.
The Android platform has witnessed double the growth throughout the years, and this year we are seeing some tremendous growth as well.
Android activations have reached a whopping 1 billion for a 30-day period. Tablets are also not lagging behind either - Android's market share in the tablet market stands at the commanding 62%.
Take a look at the stats that Sundar Pichai presented on stage below.
Android stats update
Images courtesy of TheVerge.