Android powered Motorola flip phone gets leaked?
This article contains unofficial information.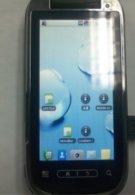 When it comes to thinking outside of the box, Motorola has somewhat been in the forefront of that department – especially how we are seeing them whip out some interesting and different looking handsets. Just like the
rumored prototype Motorola "with a twist"
Android phone, we're again being treated to another handset that boldly ventures outside of the norm. Following the design used on the Motorola Krave ZN4 for Verizon, there were leaked images that revealed another Android powered prototype that has some things in common with the Krave ZN4. From the looks of it, there is a transparent cover that opens up to allow you to handle it like a flip phone – plus there are some touch sensitive buttons with MOTOBLUR on board based on the icons seen on the home screen. It is also rumored to feature dual-band 3G capabilities, 5-megapixel camera, and the ability to capture 720p HD video. It definitely pays homage to the unique looking Motorola Krave ZN4 which was launched a couple of years ago, but it's not to say that it would prove to be an interesting design for an Android phone. As we've been accustomed to seeing of late, Motorola isn't afraid to think outside of the box to differentiate their touchscreen devices.
via
Android Community