Android phone makers get their Japanese schoolgirl reincarnations, never looked prettier
22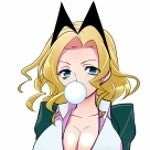 Android is the most popular smartphone platform in the world today, and phones running on Google's mobile OS are made by all sorts of companies. But we bet you didn't picture them as
Japanese schoolgirls
, drawn in the traditional manga style! The artist has also tried to not just draw random girls, but actually try to justify their looks with company behaviour.
For example, the
Samsung
girl holds an
"Android beam"
gun as the Samsung Galaxy Nexus was the first device to come with the new feature, and the
LG
Android schoolgirl is slim and stylish, which reflects the company's recent designer handsets like the LG Prada 3.0.
We don't know if the artist conveyed the message good enough, but the drawings are beautiful. The Weekly ASCII magazine has posted Hana no Android Gakuen (Android School of Flowers) - a series drawn by Noriyuki Kayama and inspired by Android phone makers. There's also a phone wallpaper version of the drawings.