Android phone makers agreed to feature all Google Apps and services, regardless of intent
37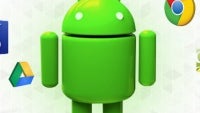 Another interesting detail emerged from Google's agreements with its hardware partners. If you are an aspiring Android device maker and wish to include some of Google's ubiquitous apps for YouTube, Gmail, Chrome and the like with it, you are must consent to the MADA - Mobile Application Distribution Agreement. In short, the agreement asks you to include the complete Google Apps package and services, including items such as Newsstand and Google+. In addition, Google Search must be the default search provider, with the top-side Search widget and the Google Play Store placed, at minimum, immediately adjacent to the Default Home Screen. Also, other Google apps must be placed no more than one level below the Phone Top.
As part of the contract, Google agrees to indemnify its partners for taking advantage of its apps.This is how Google partially covered some of Samsung's legal costs in the on-going patent dispute with Apple.
Of course, vendors that don't insist on using Google's apps can simply opt for the open-source version of Android. This is what Asian manufacturers usually do, replacing the Google Play Store and apps with home-brewed alternatives.
It has to be noted that these extracts come from a rather outdated, 2011 version of the MADA agreement. We can safely assume that these particular requirements are still a part of it, although we lack the concrete evidence to do so. Still, the existence of MADA isn't anything to hold Google accountable for, and its existence is hardly surprising. Such agreements are common practice within other software licensing companies to ensure their products are properly represented on contractors' devices. Microsoft, for example, does the same with Bing, which is the only search provider included on the majority of Windows Phones.
via
Re/code