Android devices running 4.4+ can download the Material Design Google Clock app from Google Play
22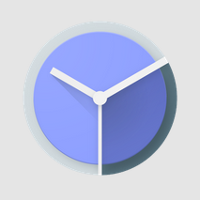 If you're rockin' a Motorola device with Android 4.4+ on board, like the
Motorola DROID Turbo
for example, you might have noticed that the Clock app now has Material Design. That is because the Motorola UI is pretty much stock Android and Google has updated the app. In addition, Google has posted the Google Clock app in the Google Play Store. Similar to what HTC and Motorola have done with its system apps, putting up a listing in the Google Play Store allows Google to make quick changes to its clock without having to wait for an OTA firmware update to send it out.
While the update brings an updated look for many Moto users and Nexus owners, for others the Google Clock app offers a different look even though the capabilities are the same. This means that the app offers a stopwatch, countdown timer, world timer and alarm clock. And it also allows you to snooze or dismiss an alarm from your Android Wear powered timepiece.
As we noted, those with stock or close to stock Android should already have the updated clock app on their phone. You can tell by looking for the new Clock icon on your home screen. Others can download the app for free from the Google Play Store. Your phone needs to be running Android 4.4 or higher to download and install the app.
source: GoogleClock (
Android
)