Android claims 70% of the global smartphone market in 2012
25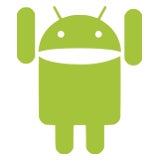 According to the latest report by Strategy Analytics, the mobile industry sold about 700 million smartphones throughout 2012. As you can imagine, most of those, and by most we mean 68.4%, were Android-powered handsets. What about the rest? Well, iOS managed to take most of what's left with 19.4%, and the remaining 12.2% were shared between all the other mobile operating systems.
As you can imagine, Apple and Samsung have remained the top smartphone manufacturers of the world in 2012, both selling hundreds of millions of handsets. Of course, what's important is not the volume, but the revenue, and in this respect it is once again Apple and Samsung who are way ahead of the others. Interestingly, the mobile industry is starting to look more and more like a two-horse race, but not between Apple and Google, but between Apple and Samsung, because even Google isn't making as much from Android as does Samsung.
These latest statistics by Strategy Analytics also show that 2012 has been a year of a subtle slow-down for the growth of the mobile industry. While overall smartphone shipments grew by 64% in 2011, this percentage for 2012 was "just" 43. With such awesome handsets in store for us in 2013, though, we wouldn't be too worried about the future of the industry.
via:
VentureBeat