Android browser 52% faster than its Apple counterpart, claims study
18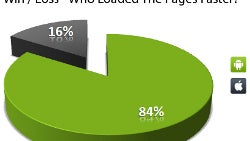 The Android browser and the iPhone 4's browser were pitted against each other in the largest ever study of smartphone browsers, and the results show that the green robot holds a significant advantage over its rival in this category.
During this research, which, by the way, was quite extensive - 45 000 separate tests conducted on 1000 different web pages - it was found that on average the Android browser is 52% faster than the iPhone 4's one. Moreover, during these tests Google's mobile OS managed to load 84% of the web pages faster than iOS. Really impressive.
All tests were performed on devices running Android 2.2/2.3 and iOS 4.2/4.3. It is noted that the latest JavaScript improvements, which are found on Gingerbread and the latest version of Apple's OS - didn't have any significant impact.
Even Guy Podjarny, the CEO of Blaze Software - the company that conducted the study - expressed his surprise at the results:
"We were very surprised by the results. We assumed that it would be closer race and that the latest JavaScript speed improvements would have a more material impact on performance. The fact that Android beat iPhone by such a large margin was not expected."
This is a quite comprehensive test, so you can't really argue with the results - turns out, Android's browser is much faster than its iOS counterpart, although we are not sure how many people have noted this, which is, you know, the only thing that really matters. Moreover, chances are that the guys at Blaze Software tested high-end Android devices, so if you have a mid or low-end handset powered by Google's mobile OS, it's very likely that you won't get the same results.
source:
Blaze Software
via
BGR