Android app SpyGlass enables your smartphone to see through clothes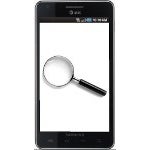 At first it may not sound morally correct, but an Android app developed by Ezel Software enables Android-powered smartphone owners to see through some thin fabrics. Appropriately named
SpyGlass
, the application works on Android 2.2 or higher as the earlier builds did not support video data from the camera to be altered in real time. However, there is hope for iPhone users as well since compatibility with other devices is being tested by the developer.
The way SpyGlass works is not exactly rocket science, but it required quite some time to be spent fine tuning. When the rear facing camera on the smartphone is activated, SpyGlass amplifies the infrared spectrum of light, which you cannot normally see, and blends it with the visible video feed. Since infrared light has a longer wavelength, it can easily pass through finer fabrics, after which it gets reflected back by the skin just like visible sunlight.
Several countries, among which Portugal, Greece, and Italy, are already considering banning SpyGlass from being used because of the moral issues that it brings up, especially when the summer months are right around the corner. We suggest that you give it a try while it is still available for download – link to the app has been posted for you below. Use it responsibly!
source:
Ezel
Download link:
Here