Android and iOS compatible 'medical tricorder' Scanadu Scout shatters crowdfunding record
5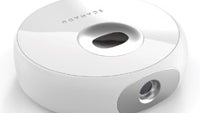 Scanadu Scout
is a project you should know about. A
'medical tricorder,'
a device that we dreamed about in sci-fi movies, it measures all vital signs like temperature, blood pressure, respiratory rate and others to give you a full picture of your health in seconds. That's not some distant fantasy - the Scanadu Scout is a device that will connect to your iPhone or Android smartphone and get a reading of all your vitals in 10 seconds.
The Scanadu Scout comes with a companion app that not only shows your vitals, but stores them and
analyzes for trends
that you can watch for developing illnesses. It is a dream come true for personal medicine, but it still has to undergo approval by the U.S. Food and Drug Administration (FDA).
The Scout relies on crowdfunding to become a reality and good news is that it has already
broken the record
on IndieGoGo, the Kickstarter alternative it has chosen to run on. So far, the device has gotten more than $1.6 million in funding and the campaign is over. The first users to get it, called 'testers', should receive the Scanadu Scout in March 2014, and if all certification goes through successfully the device should be on store shelves in 2015.