Android Wear getting another minor update
6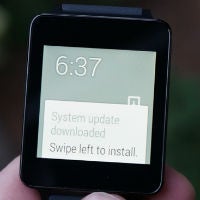 Android Wear is just getting started. The LG G Watch is likely in the hands of those who pre-ordered, and the Samsung Gear Live was scheduled to begin shipping yesterday. And, while the hardware is still on the way, Google is still working to polish the software with a new software update that is rolling out to the platform now.
Just like
the last one
, this looks to be a pretty minor update. The build number for the update is KMV78X, which is a small bump from the previous update, KMV78V. And, once again, we don't really know what's in the update. There was hope that the update might fix the issue with paid apps working with Android Wear, but it looks like that hasn't happened. It seems this is basically nothing but a bug fix/performance improvement update.
As yet, the update appears to only be rolling out to the Samsung Gear Live. We haven't heard any reports of the update making its way to the LG G Watch, but it seems likely that it will be popping up soon enough.