Android Pay in action
22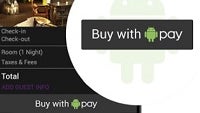 Google introduced Android Pay during the beginning of the Google I/O conference, and contrary to some rumors a few months ago, the service is an all-encompassing commerce platform.
In addition to the now somewhat familiar method of paying by tapping your phone at a point-of-sale, Android Pay also enables developers to use Google's API to have the service available from within a given app that may represent a service that sells goods.
By selecting "Buy with Android Pay," you can seamlessly finish your shopping online from your smartphone. Android Pay will also support peer-to-peer payments, though that feature was not being demoed at Google I/O.
All the major credit card issuers are supporting Android Pay, American Express, MasterCard, Visa, and Discover. The largest and most familiar banks are on board with Android Pay too, such as Bank of American, Capital One, Chase, Citi, Navy Federal Credit Union, PNC, Regions, US Bank, and USAA.
The security features are well thought out too. Making a payment at a store, Android Pay does not transmit actual credit card data, opting instead to create a virtual account number to represent your account at that specific transaction.
Best of all, Android Pay will be available to use in at least 20 stores when it launches, including Best Buy, Macy's, McDonald's, Petco, Sports Authority, Walgreens, Whole Foods, and others. In app payments via Android Pay will also cover the expected suspects like Uber, Lyft, Domino's, Spring, Priceline.com, Dunkin' Donuts, and others.
Google has also partnered with AT&T, T-Mobile, and Verizon to ensure people that walk out the door with their new phones will be able to use Android Pay. The app for Android Pay will be available on Google Play "soon," though the word we were hearing around the lounge was an official launch about the time Android M drops.