Android P wants you to use your phone less, and that's a good thing
11
On a daily basis, how much time do you spend with your eyes glued to a screen? Most of us can't give a definite answer, but it's probably too much anyway. And sure, it might seem counterintuitive for a tech giant like Google to want you to spend
less time
fiddling with your phone, but apparently, that's the direction where Android P is headed.
Digital Wellbeing – that's one of the pillars upon which Android P is built. It is an initiative meant to provide insight on how you use your phone, and if it is needed, it can help you cut down on screen time.
Android P can nudge you if you spend too much time on apps and games
The path to achieving balance with technology begins with the new Dashboard screen, giving you at-a-glance details on how much time you've spent on which apps, how many times you've unlocked your phone, and how many notifications you've had pop up. Per-app details are also available, and developers will be able to implement these in their apps. For instance, the YouTube app will provide you with information on how many minutes of video you've watched, be it on mobile or desktop.




Realizing you have been spending too much time watching fail videos is one thing. Dealing with a bad habit is a whole different story. That's why Android P is adding an App Timer feature. In a nutshell, you tell it how much time you wish to spend on a particular app within the day, and the software will nudge you if that limit is reached. That app's icon will remain grayed out for the rest of the day. You'll be able to use it if you want to, judging by the demo, but you'll know that you probably shouldn't.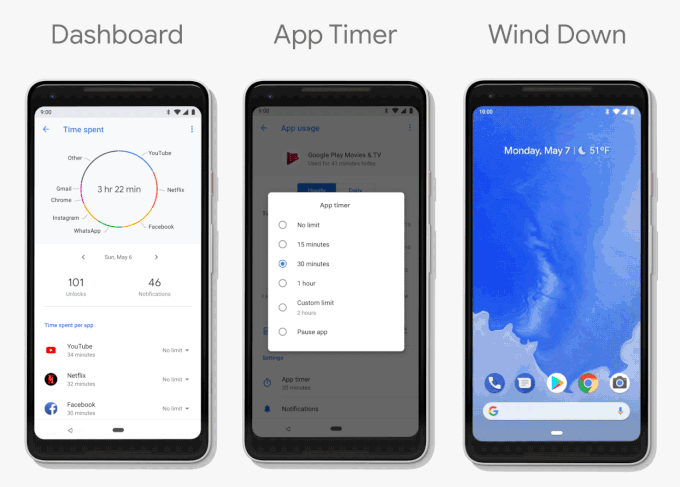 Dashboard, App Timer, and Wind Down are three of the wellbeing features coming with Android P
Distracting notifications are also being taken into account in Android P. Once enabled, Do Not Disturb mode will filter them out. But what's even cooler is how you enable the mode in the next big Android release – flip your phone face-down on the table, and boom, you're in DND mode. Of course, priority contacts will be able to reach you even then if you allow them.
Finally, Android P is making it easier to let go of your phone before bedtime. Google is adding a new mode called Wind Down, which turns the screen to black and white at a predefined time at night. Since black-and-white images are less stimulating for the brain, putting the phone away should be a lot easier.
Digital Wellbeing is going to be a long-term initiative for Google, so these four additions to Android P may not be the last designed to help us find a better balance with technology. The new Dashboard, App Timers, the new DND gesture and Wind Down will launch as part of the new Android P update this fall and will become available on Google Pixel phones first.