Android Messages gets dark mode and more with latest update to v3.5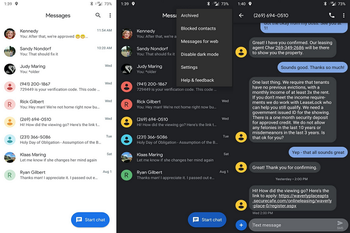 Remember about five years ago when the sound of the plastic screen covering being pulled off a new phone would send people into orgasmic waves of pleasure. These days, that sound no longer has the same ability to excite smartphone fanatics. Instead, there are two words that seem to do the same thing, "dark mode." Whenever an app adds an option allowing the user to switch to dark mode, those who have installed the app are so intent on using the new feature that they simply cannot wait for it to arrive.
All dark mode does is switch an app from having a white background and black text, to offering a black background and white text. Yes, it is a godsend to some using their phones at night or under low-light conditions, because the bright white background can be blinding in dark surroundings. But there seems to be more to the dark mode mania than that. And today, an update to Android Messages adds a dark mode and more. Version 3.5 of the texting app updates the UI to Google's Material Theme. This means that you should see a lot of white and the use of Google Sans font (check out the image at the top of this article).
To turn on dark mode, tap on the three buttons at the right of the screen and tap on "Enable dark mode." To turn it off, tap on the same three buttons and click on "Disable dark mode." To install the app on your Android phone, click on the sourcelink below. Keep in mind that the update just started rolling out today, and it might not yet be available on your phone