Android MegaPad is 23" of DIY touchscreen goodness for $600
11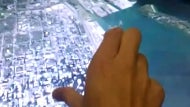 Ever wished there was a touchscreen for grown-ups that doesn't cost arm and a leg? Nah, we are not talking about the Microsoft Surface project, which is both expensive and experimental, although it does some cool stuff with Windows Phone.
Enter the Android MegaPad, which is a simply a touchscreen displaying your humble Android OS, but with the not-so-humble 23" in size. The DIY mod was done by one Martin Drashkov, who used
off-the-shelf components
that ended up costing just $600, but you can hardly call the thing portable, he says. The modder envisions other uses for such a giant Android tablet:
The Android MegaPad is then the next logical step - a modern touch-based computing device with a screen size that will enable a whole different set of experiences. Unlike tablets, devices like this will make simultaneous use by two users a practicality and will let users more fully immerse themselves in apps and games.
He goes on to explain that Android was used for the hack thanks to the openness of the platform, which allows for altering the experience for touchscreens very different than what is currently available in stores. Google's mobile OS flexibility is demoed in the video below, where two familiar apps that we are used to see on phones and tablets with not more than 10" displays, are splashed all over the 23-incher.