Android Lollipop vs TouchWiz vs Sense UI vs LG UI vs Xperia UI: interface showdown
87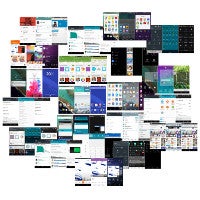 Whether we're talking Samsung or Sony, HTC or LG, or even Google's Nexus line, it's true that all of them run on the same core platform -- Android. In fact, flagships from these manufacturers quite often are even running on an identical version of Android -- whether it's Jelly Bean, KitKat, or soon, Lollipop. And yet, if you were to ask a person on the street to recognize their respective interfaces, chances are that he'll be completely out of his element.
Why does that happen? It's pretty simple, actually -- Android is open source, and smartphone manufacturers are taking full advantage of that by customizing the experience on their devices. For better or worse, it's often considered that this gives OEMs the opportunity to outdo each other -- the alternative would be for all of them to only compete on hardware and leave the software to Google. Of course, it's not all peaches and cream, as custom interfaces are also often the reason your device isn't getting the latest Android updates as fast as the Nexus line -- that, and the fact that the updates need to go through testing with your carrier, too. Alas, we digress.
So how do these interfaces differ from each other, and which one is the most attractive? We can't answer the latter for you, but we did spend several hours compiling one of the most thorough interface comparison we've done so far. The devices we decided to take a look at and compare are the
Nexus 5
(running the final stock Android 5.0 Lollipop developer preview), the
Galaxy Note 4
(running TouchWiz-skinned Android 4.4 KitKat), the
HTC One M8
(KitKat with Sense 6 UI), the
LG G3
(KitKat and LG's UI), and, lastly, the
Sony Xperia Z3
(Xperia-themed KitKat). Take a look and let us know which one you like best.