Android Lollipop runs on 5.4% of devices in April, still less popular than Gingerbread
54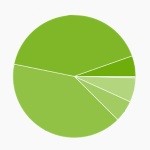 Ready for your monthly Android version distribution check-up? Google has published the numbers for April, and the latest report reveals Lollipop thrives on 5.4% of the world's Android devices, five months after its source code was made available. There's some good growth for sure, seeing that Lollipop was up and running on just 3.3% of devices in March. The number should keep growing, as device manufacturers are shipping tons of Android 5.0 devices, and current high-end smartphones all come running Lollipop out of the box.
Besides, with amazing devices such as the
Samsung Galaxy S6
&
edge
and the
HTC One M9
headed to lucky owners' hands across April, and with the LG G4 arriving in a couple of weeks, there will be plenty of Lollipop adoption going on in 2015.
For the time being, though, KitKat and Jelly Bean are the top dogs who own over 80% of the green pie. And Gingerbread... mighty Gingerbread, the brave little dessert who refused to give up, still commands 6.4% of device share - that's more than what both Lollipop and Ice Cream Sandwich (5.7%) have at the moment. To all Gingerbread users out there, we salute you!
As usual, the full breakdown is available on Google's dashboards webpage below, so head there if you want to experience the magic of numbers, pie charts and spreadsheets.
source:
Google
via
Phandroid