Android L to stand for... answer might be coming tomorrow
28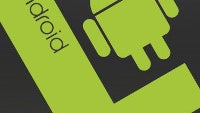 Android L is coming this fall, but what is it going to be: Lollipop, Lemon Meringue Pie, or something else altogether that we haven't heard before? It seems that Google won't be able to hide the secret much longer: a passer-by has noticed that the place in front of the Googleplex with all the candy-inspired Android version statues is being prepared for a newcomer.
There's also a note saying that Google will do some work in the area on Saturday, September 6th, and it seems almost certain that this is about the erection of the new L statue.
To recap, we should say that all the latest leaks and rumors agree on the Lemon Meringue Pie (LMP) name and Android version 5.0. While we've earlier heard about Google seriously considering the Lollipop name, that rumor seems to have faded as the company might have reconsidered in an attempt to evade eventual trademark lawsuits.
Whatever the next Android candy is, the answer might be unveiled tomorrow.