Android Froyo to make an appearance on the Dell Flash?
3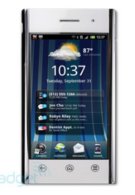 Quickly materializing out of thin air, the Dell Flash was recently leaked and looks to take Android to the next level. As we've witnessed the
Dell Thunder's
exemplifying specs showcases itself as the top of the line high-end offering out of the manufacturer's doors, the Dell Flash's captivating sleek looks, combined with some decent hardware under the hood, will surely also become a hit for potentially packing Froyo. This stunning handset will catch the gaze of many as Dell intends on crafting it out of a slice of "curved glass" that will only add to its sleekness; tallying in at only 11mm thick. Additionally, the Dell Flash features a 3.5" WVGA touchscreen, 850/1900/2100MHz HSPA, 5-megapixel auto-focus camera, 512MB RAM, 512 ROM, Wi-Fi, TV-out, 3.5mm headset jack, Bluetooth 3.0, and a Qualcomm MSM7230 processor chugging at 800MHz. Following closely to its name, the Qualcomm MSM7230 should be able to offer some decent multimedia capabilities such as HD video out and the guts needed for Flash 10.1. The star behind the handset is undoubtedly Froyo, which is
rumored to be in testing right now
, with a sprinkling of its "Stage UI" to add to its universal appeal. Unlike the Dell Thunder, it's not perfectly clear if this will be a carrier branded handset with AT&T or just be made available as an unlocked device – it'll unlikely for this see the light before the end of the year is up, but it's expected to make a splash some time in 2011.
source:
Engadget