Android 5.1 is now rolling out to Moto E (2015) users on Verizon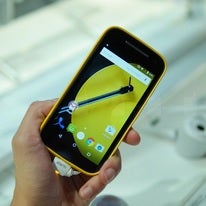 If you're in possession of the
Moto E (2015)
on Verizon, a software update numbered 23.11.17 should be on its way over the air, if it hasn't reached you already. Included are a number of improvements and fixes along with
Android 5.1
, which adds UI tweaks, notification volume controls, and a few other bits and pieces besides.
The update is being pushed on Verizon right now, so if you haven't received it already, it's en route. Late last month, Android 5.1
was made available
to owners of the LTE edition Moto E, along with the second-gen Moto X, on US Cellular. It's good to see Verizon getting users up to speed, particularly with Android M having been recently announced at Google I/O, but the Lenovo-owned firm still has plenty more devices in need of updates.
For while Moto E users will be pleased, those rocking the DROID Turbo will not be so enthused. Verizon engineer Jose Arturo
inidcated
a while ago that the Android 5.1 update would be ready for mid-June, and a further report suggested that it'd be
hitting OTA on the 10th
of this month. But today,
we've heard
that it's been pushed back, stuck in the lab for further testing. The fact that the budget Moto E has even gotten its update will hurt DROID Turbo users almost as much as being stuck on Android KitKat 4.4.4, but there's consolation in the fact that it's skipping Android 5.0 altogether and being fast-tracked to Android 5.1.
Still, if you're a Verizon Moto E (2015) user and have already gotten the update, do let us know of your early thoughts and impressions via the comments.