Android 5.0 may be released in late October and be optimized for older phones
40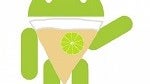 While Google may have taken a pass at unveiling what will inevitably be Android 5.0 Key Lime Pie at Google I/O last month, you cannot halt progress forever.
The whole idea behind Google slowing down the pace or Android OS releases was ostensibly for manufacturers to get caught up a bit, not that it matters too much because then everything has to go through carrier validation anyway.
With the pending releases of the "Nexus experience" or "Google Edition" devices coming from Samsung and HTC in the near future, there has also been speculation that would also mark the introduction of Android 4.3 to the world. Assuming that happens in late June or early July, that gives the field three months to catch its breath before Android 5.0 might take the stage.
That will be small consolation for those that are getting excited to upgrading their devices just now to Android 4.1 or 4.2. We will dwell on the self-flagellation of the manufacturers another time and note that this tip that the guys at VR-Zone received makes sense in that
we know Motorola will be well underway with a total product re-launch between August and October
, so we will remain open minded.
As to what Android 5.0 may bring to the table, it is said that the OS has been worked over hard to make Key Lime Pie run okay on devices running as little as 512MB of RAM (that is dating back a bit). This would be a nice gesture seeing as how the manufacturers have been pretty selective as to which of their relatively new hardware will even get a generational update to the operating system to begin with.
Of course it will take a lot of examination by the OEMs to see how feasible it is to bring some of the older gear up to date, but hopefully that issue will have been anticipated and addressed by Google. We know how passionate our readers are about given platforms, but you have to admit, competing platforms have been pretty effective at supporting legacy gear, Apple's iOS, Windows Phone, even BlackBerry make pretty clear delineations in terms of OS support.
Taken with the appropriate amount of cynicism, this news seems feasible. It also provides enough of a window for the
Sony Xperia Z running stock Android
to show up and sink in. Meanwhile, the tip hints that the Nexus 5 will enter the spotlight as well. It is shaping up to be an eventful summer.
source:
VR-Zone