Android 5.0 Lollipop Material Design wallpaper collection
12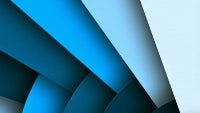 The new
Material Design language
brings a profound change in the visual style of Android, and with 5.0 Lollipop introducing it in all first-party apps and strongly recommending it to third-party developers, we expect to soon be immersed in a world of such applications.
If you want to make that immersion fuller, though, you'd need to tweak your wallpaper and icons to that new style, and while Android 5.0 Lollipop does ship with
several wallpapers in that new style
, there is a treasure trove of them out on the web.
With contributions from NOVA Launcher Prime, the Wanam Xposed Framework, Timely Clock Widget, and more, this 141-wallpaper pack will serve all your needs for modern looks that strike the same visual style as Android L.
Take a look at them right below, and don't forget that you can save each one separately from our image gallery. For those who'd rather have the full wallpaper packed zipped and ready for use, hit the download link right after the slideshow.