Android 4.x is more than twice as stable as iOS 7.1
99+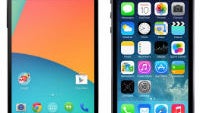 There is a lingering stereotype that Android is a crashy mess and iOS is very stable, but some new numbers completely flip that idea on its head. We heard recently from Crittercism that iOS 7.1 is the
most stable version
of iOS to date, but that actually doesn't look all that great now that the company has unveiled the numbers for Android.
The study was done by Crittercism, which processes over 30,000 requests per second in real-time from over 1 billion mobile users. The study took into account complexity (hardware x OS version x carrier), app responsiveness, and app uptime. It found that iOS 6 crashed 2.5% of the time, iOS 7 got better with a 2.1% crash rate, and iOS 7.1 is the most stable at 1.6%. But, Android was far more stable across the board with Gingerbread (2.3) at a 1.7% crash rate, and all versions from 4.0 and higher had crash rates of just 0.7%, meaning iOS 7.1 crashes more than twice as much as any Android 4.x version.
Both Android and iOS can say that phones are more stable than tablets, but the study says that there is room for improvement with Android, because many developers still haven't properly optimized their apps for use on tablets, and that will lower crash rates. In terms of devices, Samsung had the lowest crash rates for both phones and tablets in the Android ecosystem. And, surprisingly, the iPhone 5 had a lower crash rate (1.7%) than the iPhone 5s (2%).
The study is actually quite impressive. It looks into how many cloud services an app calls on, the latency time for those calls based on where you are, and the error rates of those cloud services, which all factor in. Users in Canada, Japan, and the U.S. have the shortest latency times, and Google Analytics has the lowest error rate at just 0.1%. For comparison, YouTube and Twitter had error rates of 1.2% and Facebook clocked in at a 2.5% error rate. Probably the least surprising finding is that games and "graphics intensive apps" have the highest crash rate, while ecommerce apps have the lowest likely because downtime for those apps carries the highest cost.
Recommended Stories