Android 4.2 Jelly Bean Review
37
Introduction
Android 4.2 is a new flavor of Jelly Bean. Those are the words that probably best describe the newest of Google's mobile platform.
4.2 is not a revolutionary leap in Android. It is more of a feature pack on top of the 4.1 Jelly Bean. It arrived with little hype - no dedicated event, not even a change in the name, not a single big feature that would catch the eye.
But with all that, Google has managed to be the most aggressive company when it comes to rolling out updates, steady and methodical, quietly bulking up on features. While 4.1 was all about Project Butter and speed, 4.2 moves the focus back to the user. Google has improved Jelly Bean in virtually every aspect where it needed the extra coat of polish: the camera UI, lockscreen with widgets, clock app, keyboard and security.
With all that, is it the most mature operating system out there and how does it fare against iOS and Windows Phone? When will it come to your device? And finally, when Google updates Android, does this make a sound in the Android ecosystem? Let's dive right in and try to answer all those questions.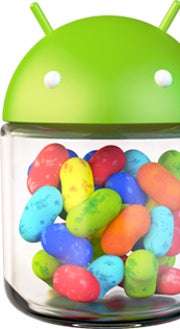 4.2 Jelly Bean: The new features

1. Camera

It's hard to pick one particular feature we love the most about Android 4.2 Jelly Bean, but when you consider recent studies that it is the camera that is the most used feature in phones nowadays, let's start with it. Google has rebuilt the camera interface with a
new radial menu
that appears whenever and wherever you tap while in the camera app. It allows you to fine tune Flash usage, Exposure, White Balance and Switch between cameras with a single finger, and is extremely convenient.
The second big update is the addition of
Photo Sphere
, a 360-degree panorama mode, that Google lifted from its Street View Maps team. The technology is similar to Microsoft's Photosynth, but without the proprietary file formats. It is quick and works very well in most situations. It won't always stitch everything perfectly, though. We had some issues with evening out the white balance in shots, and of course it does not work well when there are moving objects in the image.
But what strikes us the most is the fact that the
camera feels snappier
to use even for single shots. We've been running Android 4.2 on a Samsung Galaxy Nexus, and while its camera was fast, it seemed even quicker to capture multiple shots after the update.
You also get a bunch of Instagram-like
filters
that come built in the Gallery application. Not just that, there are tons of editing options starting with most basic cropping and rotating the image, to deeper tweaks - levels, contrasts and other adjustments. All of this is recorded into a full history of your actions so you can revert back to earlier stages of your image manipulations. This is great news for photography enthusiasts.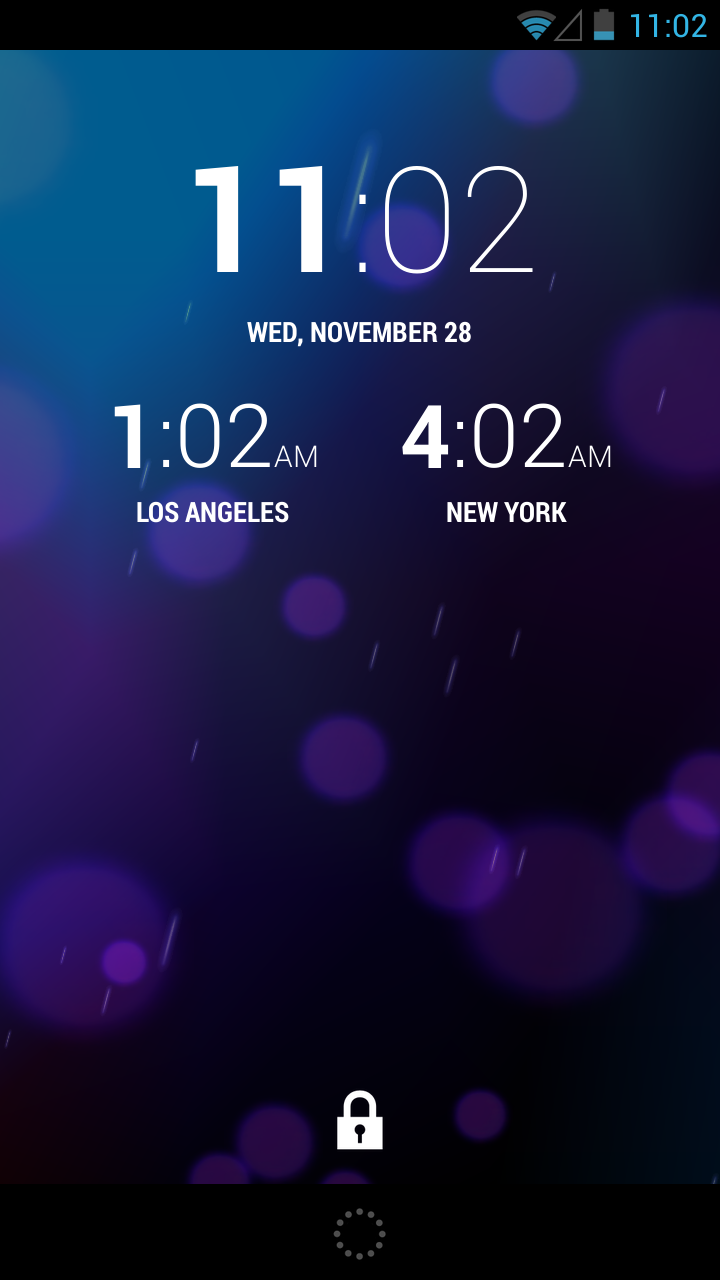 2. Lockscreen widgets

4.2 Jelly Bean brings widgets to the lockscreen. Android phone makers like Samsung and HTC have long been trying to fix the static lock screen in stock Android, adding some shortcuts to it, but now Google finally solves this problem. You can now sidescroll right to go into the camera and left to look at widgets. Out of the box there are only four widgets that you can add to the lockscreen, but third-party apps have already started offering lockscreen widgets, so in addition to the stock Gmail for example, you can have say a Twitter widget (via Plume for instance). Good news is that all of those lockscreen widgets are dynamically updated in the background. Whenever you receive a new email you can check it out straight from the lockscreen widget and without going into the mail app.
One word of caution though. Lockscreen widgets do not require a password. Even if you have your device password-protected, anyone can see the widgets without being asked for a password. That means that if you have a Gmail lockscreen widget, anyone who picks up your phone can read your emails on the widget (not in the app, though). This is not a bug, this is a feature. It is there for your convenience, so if you are concerned about the privacy of your email the solution is simple - don't use those lockscreen widgets that reveal your information.
We love the idea of lockscreen widgets so you can check out basic things like the time and weather without having to unlock your device. However as it is right now, Google allows only one widget per screen. You can't have two widgets on the same screen. Imagine you want a Twitter and Gmail widget on a single lockscreen panel. That is not possible in the lockscreen right now. We really hope Google fixes this in an update soon, allowing for more than one widget on a single lockscreen panel.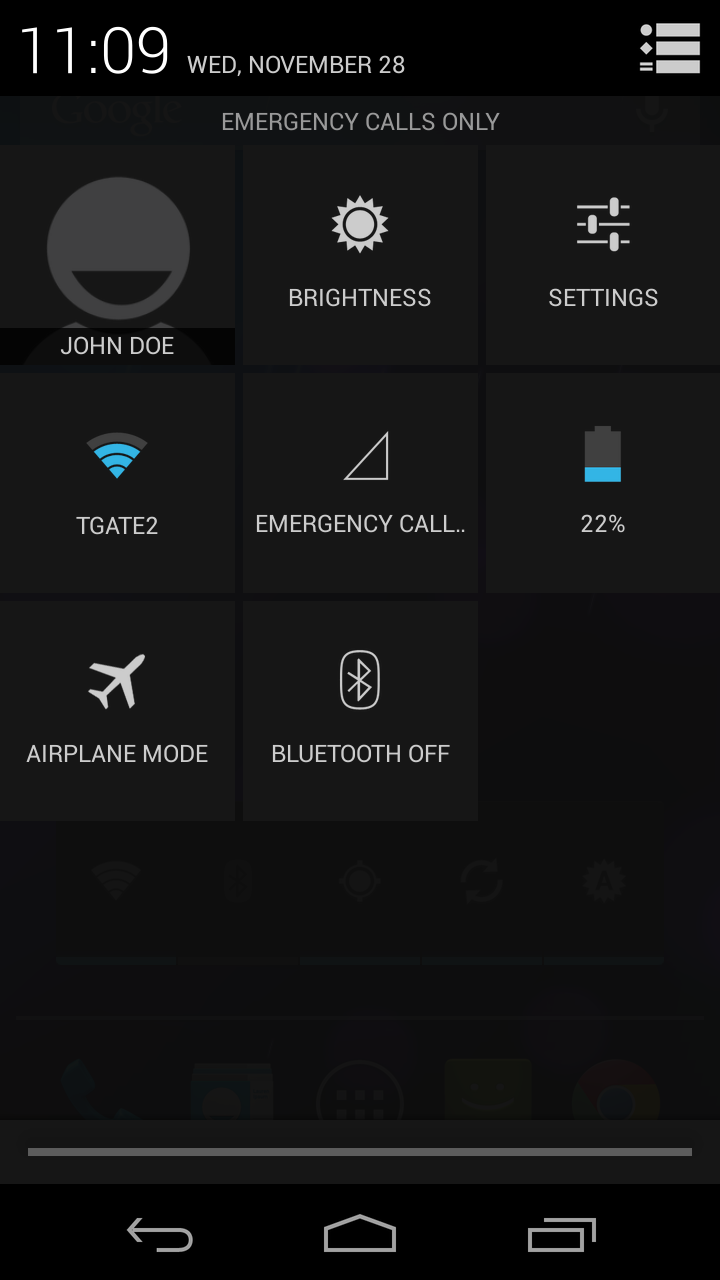 3. Quick Settings

Next on the list of updates is Quick Setting, a menu of the most oft used toggles and shortcuts, designed to save the average user a trip to Settings. You bring this by either scrolling down from the top to bottom with two fingers, or bringing the notification shade and pressing the Quick Button icon in the top right corner.
Those are welcome additions - displaying things like the battery percentage, and allowing to set the screen brightness, but we do feel that Google could have easily gone with direct toggles for some of the things. Instead we get shortcuts. One glaring example is brightness. Instead of a brightness slider right into the menu, you have to first tap on a shortcut, and only then you get to adjust the screen brightness. That might be picking the nits, but we had to get it off our chests.
4. Updated Gmail

Gmail also gets a small, but very welcome update with features like "auto-fit messages." What this means is that instead of a zoomed-in version of emails, now all messages fit vertically so you only have to scroll up and down, and not left and right to see them. This is something we know from iOS, and a very simple and useful thing to have. The trick is though, that auto-fit is not automatically enabled. You have to go into Gmail settings and enable it from there.
You can also pinch to zoom inside messages, and in your inbox a simple swipe to the left or right archives messages, a very convenient way to clear up your mailbox.
5. New Clock app

4.2 also introduces a brand new Clock app. Finally, it brings native stopwatch and count-down timer, with a convenient number pad to quickly set the timer.
The alarm UI has been overhauled and vastly improved. Fonts are bigger, cleaner, easier to read. Setting multiple alarms is done in a straightforward transparent way. It is robust - you can set alarms repeating across days, hours, and with different ring tones.
Those who just can't get enough sleep, can now snooze the alarm using the volume down button or with a simple swipe to the left. Hey, five minutes of extra sleep always count!