Analysts believe the Galaxy S6 won't be enough to stop Samsung Electronics' earnings slide
56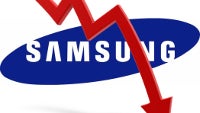 Sluggish sales of the flagship Galaxy line, along with continued pressure from Chinese manufacturers, among which Xiaomi, and increased competition from the company's arch rival, Apple, are cited as the three main reasons behind the earnings slide in Samsung's camp. Year-on-year, in 2014 Samsung's operating income dipped 32.2%, down to 24.9 trillion won (~$22.96 billion), and analysts now forecast that 2015 will bring about a further 6% drop.
According to industry analysts, cited by
The Korean Herald
, better performance within the memory chips division at Samsung may partially cover for the losses that Samsung Electronics (Samsung's smartphone daughter company) incurs, but they agree that the tech giant's best days are likely already behind it.