Analyst who broke out Snapdragon 820 specs says Qualcomm's upcoming chip is 50% more powerful than the Samsung Galaxy S6's
68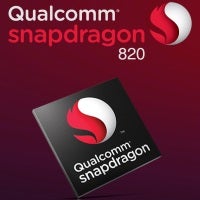 As year 2015 draws to a conclusion, we're already shifting our sights to what's in store for the first half of next year — mainly a new generation of Android smartphones, powered by Qualcomm's up and coming Snapdragon 820 SoC. The US chip maker's next flagship platform is commanding increased industry and user interest, for besides the expected two-fold increase in processing power, it's also meant to deliver in all those stretches where the Snapdragon 810 fell short of achieving the targeted goals. A disappointment after a successful streak of fast and efficient chipsets, this one throttled its speeds quickly and heavily to stop itself from overheating, and
sacrificed battery life
.
Then again, the controversy did serve to inject additional interest in Qualcomm's upcoming flagship product. And judging by the rumors swirling in the Rumor Grande river, the Snapdragon 820 may have all it takes to bring the company back on the right track. We've already heard of Samsung and TSMC as potential manufacturing partners, and the possibility of the former's Galaxy S7 flagship featuring the latest high-end Qualcomm chipset once again.
Now, Chinese analyst Pan Juitang (the first to uncover details about the chipset that
eventually turned out correct
) has made the SD 820 seem even more promising in his new report. He claims that Qualcomm's dragonborn chipset is 50% faster than Samsung's own
Exynos 7420
, the chipset that's been at the heart of this year's premium Galaxy devices. Allegedly, the 820 is up to 50% more powerful in single thread performance, which sounds very promising considering most Android apps do not prioritise multi-threading.
However, Samsung is preparing silicon of similar prowess for next year, the Exynos M1. Most likely, the chipset will end up in upcoming Galaxy devices for the Asian market, while their global variants will run on Qualcomm hardware.
We also get another confirmation of a 14nm FinFET process being used for fabrication, along with Cat 10 LTE support (up to 450Mbps downlink), a "complete 4K60 entertainment system" that would enable 4K video playback at 60 FPS, a programmable pre/post-processing camera DSP (which manufacturers will hopefully take advantage of), and a dedicated low-power sensor for "emerging always-on use-cases". It looks like Qualcomm is bringing some serious top shelf technology of its own along with the powerful chipset, so let's have our fingers crossed for this one!
Android smartphone makers are already taking test samples of the Snapdragon 820 out for a spin. According to Frank Meng, president of Qualcomm China, there are as many as 30 Snapdragon 820-powered smartphones in their planning and design phases. Meanwhile, we've
rounded up some upcoming devices
and what we know about them in this article. Check it out and let us know about your expectations!