Analyst predicts heavier sales but shorter lines for the Apple iPad 2
32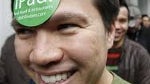 Analyst Gene Munster of Piper Jaffray told clients on Tuesday that he expects initial sales of the Apple iPad 2 to outsell the launch of last year's original Apple tablet. Yet, the analyst expects to see shorter lines at sales locations. The reasoning is rather simple. Last year, the original Apple iPad launched at 221 Apple stores and most of Best Buy's 1,100 locations. This year, the iPad 2 will be offered at
236 Apple stores and about 10,000 stores belonging to Apple's partners
.
Besides Apple's retail locations and Best Buy stores, other places where you will be able to pick up the sequel to the hugely popular tablet include Walmart, Target, AT&T and Verizon. And Munster expects that the 1,000,000 units sold in 28 days by the original model will be surpassed by the Apple iPad 2. Unlike last year when the 3G enabled version of the tablet launched a month after the Wi-Fi only model, both versions will launch together this Friday.
And while shortages of the device last year led Apple to wait 1 month before the International launch of the tablet, this year the Apple iPad 2 will be in 27 countries within 2 weeks of the U.S. launch, according to Munster. Last year, 3.27 million units of the tablet were sold in the first quarter after launch. This year, Munster expects the sequel to sell 5.5 million units in the first quarter after launch, followed by sales of 5.6 million in the following quarter. Last year, Apple sold 4.19 million original iPad units in its second quarter of availability.
In a note to investors, Munster wrote, "Generally, the length of the lines at Apple retail stores on launch day have been a helpful early indication of demand. However, factors like online pre-orders, simultaneous international launches, weather, timing in the day and the day of the week can all impact a consumer's willingness to go stand in line, but may not necessarily be indicative of immediate purchase intentions."
source:
AppleInsider

Chart courtesy of Apple and Piper Jaffray