Analyst predicts half a million iPhone 3G S sold over the weekend
This article contains unofficial information.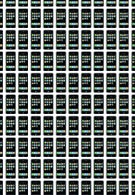 Piper Jaffray analyst Gene Munster predicts that when the dust settles, Apple will have sold 500,000 units of the new iPhone 3G S over its debut weekend. That number is impressive, especially when placed next to the 50,000-100,000 Palm Pre models that were
estimated
to be sold on that handset's debut weekend. Still, the estimate is only about half of the number of iPhone 3G units that were purchased during the weekend of July 11, 2008 when that model went on sale. One important difference makes comparing the sales of the 3G and the 3G S a little difficult; the former debuted in 21 countries on its opening weekend while the latter launched in just 8 countries this past weekend. No matter how you look at it, even with shorter lines and less chaos at the stores, the newest version of Apple's touchscreen smartphone is still a success at the cash register.
source:
COMPUTERWORLD