Analyst flip-flops about a Retina display in the iPad mini 2
68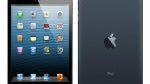 Many have been expecting that the iPad mini 2 will be launching later this year with a Retina display, but an analyst from DisplaySearch doesn't think that's going to happen. Instead, NPD DisplaySearch analyst Richard Shim thinks that Apple will take more of the iPhone route with the iPad mini releases.
Shim thinks that the iPad mini 2, which will come this fall, will feature boosted internals and a slimmer design (much like an 'S' iPhone model), and will be followed by a 3rd generation iPad mini that will come in "early 2014" and that's the model that will feature a Retina display.
Of course, we should keep in mind that just last month, Shim was saying that
LG was ramping up production
of Retina displays for the iPad mini. So, he may not be the most reliable source. While we could believe a shorter release cycle is on the way for the iPhone, it seems unlikely that Apple would be moving to such a short release cycle for the iPad mini.