Analysis indicates iPhone 6 is outselling the iPhone 6 Plus 3-to-1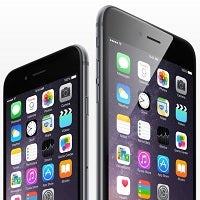 Apple's new line of iPhones are a success, there is no arguing that point. Without providing a specific breakdown of sales by model or storage capacity, Apple announced it
set a new record
for
iPhone 6
and 6 Plus sales during its launch weekend.
The new iPhones dominate the sales cycle with the carriers at the moment, and will be a strong contender as we approach the holiday shopping season. What is not known with absolute certainty is which of the new
iPhone 6
models is proving to be the most popular.
UBS analyst Steven Milunovich has been scrutinizing a report from Consumer Intelligence Research Partners which examines the sales data of the first 30 days of availability of the iPhone 6 and
iPhone 6 Plus
. Milunovich says that the iPhone 6 is outselling the
iPhone 6 Plus
by a margin of 3-to-1.
The sales activity is a bit skewed though because Apple has been dealing with supply issues affecting the iPhone 6 Plus' production, so actual demand for the bigger iPhone is not gauged in the report. In all, 91% of all iPhone sales were for the new iPhone 6 models, which is an increase over the previous model launch a year ago, providing a sure sign that the larger form factor is a hit with the masses.
The research also indicates that more people are opting to go for the 64GB and 128GB models over the 16GB capacity iPhones. Seeing as how each model commands a $100 premium over its lesser storage sibling, Apple is likely looking at better profit margins with the iPhone line-up.
source:
AppleInsider