Analaysts believe Windows 8 tablets may be too little, too late
36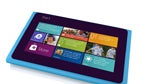 Almost a year ago, as the world awaited challengers to the tablet throne, the greatest consumer interest was in a Windows tablet. Nearly half of all people polled (46%) listed a Windows tablet as one they would be most interested in purchasing. Just a couple of quarters later, and now only ¼ consumers list a Windows tablet as their preferred choice. What happened?
According to Forrester Research analysts, Microsoft took too long to introduce a competitive product. The result is that consumer expectations are rapidly shifting, forcing Microsoft to shoot at a moving target as the tablet market continues to change.
Forrester points out that Microsoft was actually too early to the party, as well as too late. Stylus-based Windows slates had been on the market for a while, but they were considered over-priced and cumbersome to use and met with little success. The iPad redefined the touch-screen tablet space, and Android, WebOS, and QNX-based tablets have since helped to shape market expectations.
The tablet market continues to evolve at a rapid pace – Amazon and Barnes & Noble have recently redefined what the value-based segment of the market looks like, emphasizing content consumption and price point over hardware specifications. This will further constrain Microsoft's ability to position Windows 8 tablets when they finally launch, sometime in the second half of 2012.
Forrester's still expects Windows 8 to be a popular consumer operating system, but the success of the desktop environment may not be mirrored in the tablet space. Since tablet sales are cutting in to laptop sales, it will be interesting to see what happens to the desktop and laptop market between now and the end of next year.
What do you guys think? Anyone out there still waiting to grab a Windows 8 tablet?
source:
Forrester
via
BGR