AnTuTu: 68% of all Android smartphone knock-offs are Samsung or Xiaomi clones
12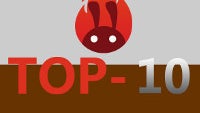 AnTuTu, the company behind the popular mobile benchmark with the same name, has just published a report on the state of the Android knock-off smartphone market.
According to AnTuTu's estimates for the first half of 2015, about 2.04% of all Android smartphones are fakes. That may seem like a high rate, but the report says that the number of detected knock-offs is actually lower compared to previous years.
When it comes to the top brands that clone-makers imitate, the report suggests that Samsung is leading the pack, with 37.30% of all knock-offs said to be Samsung clones, followed by Xiaomi, with a share of 30.96%. Huawei (with 3.79%), completes the podium, while HTC (with 2.88%) comes in the fourth position.
AnTuTu also details the top 10 most copied Android smartphones, a group that holds a share of 50% out of the total Android knock-off population.
Xiaomi Mi Note
clones are the most common, with an estimated share of 31.82%, followed by
Xiaomi Redmi Note
clones, with a share of 12%. The
Xiaomi Mi3
(9.39%), the
Samsung Galaxy Note 3
(8.82%) and the
Samsung Galaxy Note 4
(7.01%) complete the top 5. Apparently,
Samsung Galaxy S6
clones accounted for 5.13% of the Android knock-off market.
The report also includes some statistics based on the number of CPU cores used by fake handsets, as well as ones that detail the most common display resolutions. To view then, browse the photo gallery below, or head over the source link.

AnTuTu's report concludes that the number of fake Android phones is starting to decrease, which could be attributed to the efforts that manufacturers have made with anti-fraud campaigns. Independent of the reasons behind the falling number of Android phone clones, this is obviously great news for smartphone makers across the globe.
Recommended Stories