An elephant uses the Galaxy Note in Samsung's latest video
24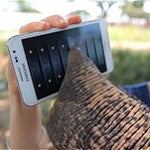 Hey, now we know the target demographic for Samsung's Galaxy Note; proboscideans! We jest, we jest. Still, for those of you who were skeptical of the size of Samsung's popular phablet, we imagine that seeing Peter the elephant use it will only reinforce your cynicism.
Of course the Galaxy Note is
selling well
, so clearly there are non-elephants out there who like its form factor. Regardless of your phone-size preference, Samsung's latest promotional video is pretty amazing to watch – it's a real-life Asian elephant (notice the smaller ears) playing with a Note, exploring musical instrument apps, snapping photos (with a trainers help), and even drawing with the stylus.
We don't know if it will make you more interested in buying a Galaxy Note, but it will sure give you an appreciation for how dexterous an elephants' trunk can be. Well worth one minute and eleven seconds of your life:
source:
Pocket-lint
via
Android Central