Amazon's Kindle Fire HD got a boost from the iPad mini announcement
22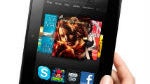 There was some talk that maybe the Google Nexus 7 would see a bump in sales because of the screen time that it got during Apple's iPad mini event, and maybe it has, but Google hasn't talked about the numbers. What we do know is that Amazon's Kindle Fire HD definitely got a boost after Apple's event.
Amazon told
AllThingsD
that the sales on the week of Apple's announcement of the $199 Kindle Fire HD were three times higher than the previous week, and the day after Apple's iPad mini event, "Wednesday was the $199 Kindle Fire HD's biggest day of sales since launch." That is some pretty interesting information from Amazon.
Obviously, Amazon wants to impress upon us that the iPad mini isn't going to hurt the Kindle Fire business, and it's not really that surprising that the numbers came out as they did. Many people were probably waiting on Apple's announcement on the off chance that it would come in around the
rumored $249 price point
. When that didn't happen, and Apple priced the
mini at $329
, people bought the less expensive option. We certainly wouldn't be surprised if Google has similar numbers to announce as well.
Of course, Apple still
sold out the iPad mini
pre-orders, so the iPad mini price point isn't really an issue for everyone.