Apple already running out of white iPad minis, shipping date pushed back
32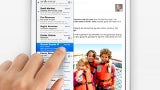 "Hey, buy some of the black iPads, will you?" - Such must be the thoughts of Tim Cook and company right now. Not that we didn't expect it, but it happened almost surprisingly fast - due to inability to meet to the extreme demand for its new iPad mini, Apple has already pushed back the shipping date for some of the models.
If you try to pre-order a white iPad mini now, you'll find out that the device is no longer expected to ship on November 2, but in the somewhat more indefinite "two weeks." The reasons we can think of are two: either Apple has had an insufficient initial stock of white iPad minis, or people are just loving the white variant much more than the black one. Speaking of the black iPad mini, the good news is that the pre-ordered units are still set for a November 2 shipping, but if you like the black one and plan to purchase it, we'd recommend that you don't take too long before placing the pre-order, as we won't be surprised if its shipping date gets pushed back as well.
Thankfully, there isn't a change in the expected delivery date of the 'Wi-Fi + cellular' iPad minis, which is still "mid-November".
source:
Apple