Amazon to open 100 pop up stores inside shopping malls to sell Kindle slates and more
4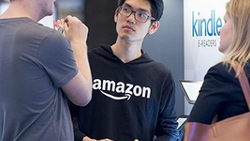 Amazon, perhaps the first company that comes to mind when you think of online shopping, plans to further its recent physical shopping initiative by opening 100 pop up stores inside shopping malls. The company has already opened a physical bookstore in Seattle and plans to add more. The pop up stores are not related to the bookstores, and will focus on selling Amazon's gadgets and devices.
The stores will range in size from 300 to 500 square feet and will carry Kindle Fire tablets, Kindle e-book readers, Echo speakers and more. As of last month, Amazon had 16 of these stores open. That is up from the six that were open at the end of 2015.
Amazon is currently looking for employees to man these locations. Amazon's website mentions that there will be 'Amazon Experts' in the store to show visitors how the devices work, and to help consumers find the exact product that they need. Job openings are listed for new stores in Miami, Florida, and West Hartford, Connecticut.
Amazon says that the pop up stores "have emerged from the test phase with a goal to expand and grow." You can see what the concept looks like by clicking on the sourcelink. The link will take you to Amazon's dedicated website for the concept.
source:
Amazon
via
BusinessInsider