Just google Amazon fire, we dare you
14
We may earn a commission if you make a purchase from the links on this page.
The rainforest is burning. So much so, that it can be seen from space and people are starting to get worried over the unprecedented forest fire spread, just like in Siberia or Alaska this year, which is shaping up to be the hottest on record.
The thing with Brazil's rainforest, however, is that it not only gobbles vast amounts of greenhouse gases, but also serves as a vast cloud highway that helps maintain the global climate balance. You'll hear varying opinions on the level of disaster in our divided society - either that July and August are the typical forest fire months and the intensity is actually below average, or that the scale is unprecedented, and 85% higher than last year.
In any case, we are not here to argue about climate change but to note one amusing fact that happened around South America's fires. The most famous natural wonder there is undoubtedly the amazonian rainforest, so, naturally, people who were interested to read more on the matter keyed into Google the words "Amazon fire" as one does.
With Google, Facebook and Amazon occupying nearly 80% of the online advertising space and budgets, however, the first and subsequent search results were about the
Amazon Fire
tablet. The law of unintended consequences
kicked in
for Amazon, and it must have sold a boatload more of its budget slates than usual in this back-to-school month.
Google quickly fixed that wrong, and when you search for Amazon fire now, that's exactly what comes up as the first result - information about the flames running through the rainforest, as well as various musings whether they are caused by climate change.
The Amazon Fire tablet and various Bezos-endorsed gadgets, however, are still strong in the news search as you can see from this current snippet below - oh, the world we live in!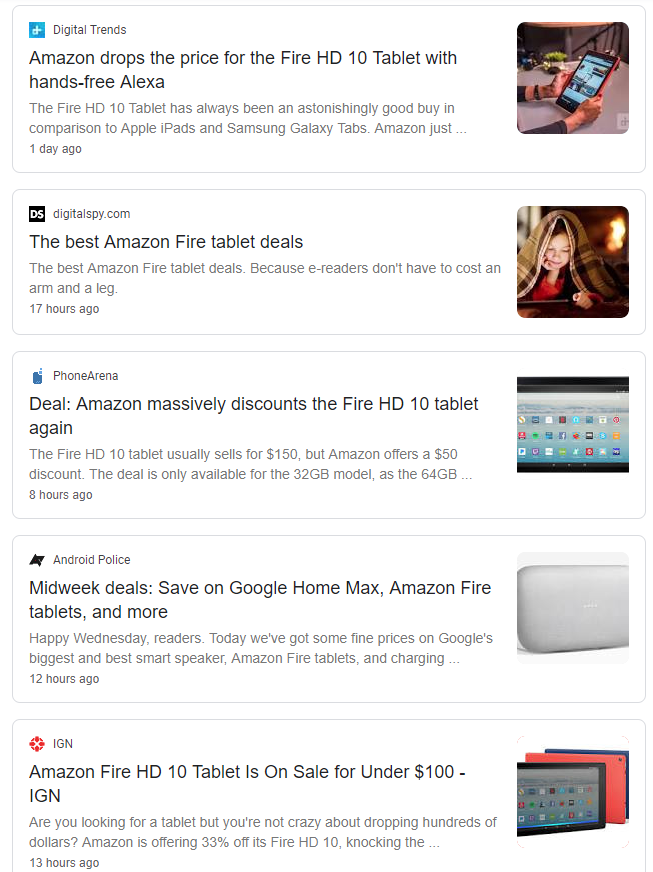 Amazon fire news search results