Amazing platformer Bean Dreams hits iOS as the sequel to Bean Quest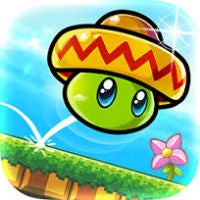 Platformers are a game genre that is notoriously hard to translate to mobile. Platformers require control accuracy that touchscreens simply can't offer yet. This is a big reason why endless runners have become so big on mobile, because it splits the platformer idea to control part of the movement for you. However, if you love platformers, endless runners don't really do the trick. There are some good platformers, like Gunman Clive and Bean Quest, and the latter now has a sequel for iOS called Bean Dreams.
Bean Dreams is from game maker Kumobius, which is one of the better game devs on mobile. The conceit of the Bean games is that it takes the endless runner idea and flips it around. Instead of a character that is constantly moving forward and you control the jumping, the Bean is constantly jumping and you control the movement. It's a control scheme that works well, and the game itself is polished and absolutely packed with charm.
Many liken the style to old-school Mario games on the SNES, but the game obviously also pulls inspiration from the early Sonic games. Each stage has the straightforward goal of getting to the end, but along the way there are gems to collect, baddies to kill, axolotls (Mexican salamanders) to save, and other new perks for things like beating a stage in a limited number of jumps.
If you enjoyed the original Bean Quest, you'll definitely find a lot more to love in Bean Dreams. The game is available right now for $2.99 on iOS. No word on when the game will be making its way to Android, but usually Kumobius doesn't take too long to get to Android.