Always-on ambient display removed from the OnePlus 6 after the first update
19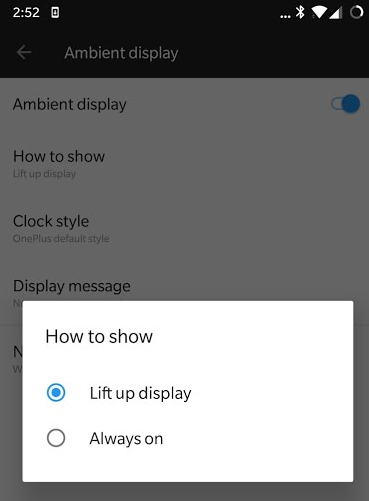 An update sent out by OnePlus removed the Always-on ambient display option from the OnePlus 6
The same day that the
OnePlus 6
went on sale,
an update was sent out to the phone
that added an option allowing users to hide the infamous notch. It also gave them the ability to shoot super slow motion videos at 720p@480fps and 1080p@240fps. It also included the quick capture feature for portrait mode. But the update also took away a feature that many OnePlus fans wanted to see on the new model.
Gone in a flash was the option to enable an Always-on ambient display on the OnePlus 6. The screenshot that you see on the right shows that this option was going to be a real choice on the handset before the update removed it. The other setting option, "Lift up display" is now the only choice that users have.
OnePlus has not commented on this, which has resulted in the birth of several theories. Some say that the Always-on ambient display ate through battery life like a warm knife goes through butter. Other say that it was just being tested (aside to major phone manufacturers; when you fail to make a statement about an issue with your device, it just creates theories that may or may not have anything to do with the truth). Hopefully, we will see the Always-on ambient display return in a future update.
"Ok guys, so I just received my OnePlus 6 today and before installing the update that it received out of the box I messed a bit with the settings and found out that under display-> Ambient you could check an option between "when raised" and "always on" and was ready to do a PSA on reddit about it but after I installed the update that brings the hide the notch feature and the may security patch the option for always on dissapeared. Can anyone who has yet to get their hands on their device please confirm this before they install the update? I am 100% sure the option was there, I even used it but I have no proof now after installing the update."-paket911 via Reddit