Alternate Facebook app Friendcaster gets major update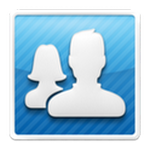 OneLouder Apps, developer of popular social media apps for Android like Tweetcaster and BaconReader for Reddit, just updated it's Facebook replacement app Friendcaster to version 5.0. Why try out a non-official version? OneLouder points out that this app is entirely designed for Ice Cream Sandwich, which may lead to an experience some will prefer. Others might be concerned about potential
Facebook privacy issues
, although if uber-secret privacy is your biggest concern you may need to rethink your social media usage all together. Regardless of the reason, if the official Facebook app isn't really your style, this may be worth checking out.
Friendcaster 5.0 comes with a host of improvements that are almost too numerous to list. Almost. The list of new features includes:
MAJOR 5.0 UPDATE
Beautiful new news feed
Realtime notifications available for all
Quick and easy setup wizard for notifications
6 color themes (with more to come)
Higher resolution photos in your news feed
Faster access to comment and like status updates
Ability to tag more than one Friend at the time in a Post
Memory improvements all-around.
New checkins interface
Quick access to post status update or photos/video
Major Android design improvements
Lots of little things all over the place
The official Facebook app is
immensely popular
, but over 3 million people have installed Friendcaster, so they must be doing something right. If you happen to be 1 in 3 million, or simply want to check out an ICS-optimized alternative to the official Facebook app, hit up the source link to give it a shot.
source:
Google Play Store