Alleged Sony Xperia Z4 LCD digitizer leaks, screen pegged at 5.2" with Quad HD resolution
60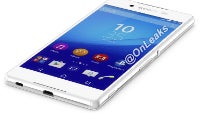 As is usual for the industry, the closer we get towards a release date of a major device, the more intel you can expect to leak through the cracks. In the case of Sony, there's an abundance of cracks, and its upcoming Xperia Z4 has been making the rounds for weeks now, each time more and more convincingly. Today is no different, for we just got word that somebody on the Sony-loving
esato
forum boards is claiming that several images of an Xperia-like LCD digitizer are, in fact, from the Z4.
Apparently, the information is based on a clue given by an unknown LCD displays supplier, that also claims that Sony will be making a jump to a 5.2" screen with a Quad HD resolution, or 1440 x 2560 pixels. That's the equivalent of 565 ppi, which is more than enough to ensure that even fighter pilots can't distinguish any individual pixels.
According to the various rumors and leaks that have been floating around, the full Xperia Z4 scoop looks like this: an octa-core Qualcomm Snapdragon 810 processor, 3GB of LPDDR4 RAM, Sony's newest IMX230 sensor with real-time HDR and phase detection auto focus, and Android 5.0.2 Lollipop on the software side. As for a release date, reports are a bit conflicting, but it does seem like a release within the next 3 months is possible.