Alleged OnePlus 3 renders leak, will pack a Snapdragon 820 under the hood?
20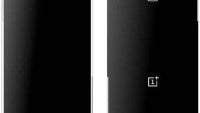 When it's not peddling iPhone 6s cases, OnePlus is actually in the business of selling smartphones with near-high-class hardware, at bargain prices. OK, we kid a little – OnePlus became famous in the smartphone tech circles, when it first launched its flagship (and only smartphone at the time)
OnePlus One
– a device, carrying hardware very similar to that of the heavy hitters of 2014, but at nearly half the price. Then, it doubled the fame, by introducing an
invite system
, whereby you wouldn't be able to buy the handset freely, unless you were "invited" to throw money at OnePlus – how nice. In 2015, we saw the logical evolution of the company's products – a new flagship, the
OnePlus 2
, and a new midranger, the
OnePlus X
. Both handsets continue the tradition of bang-for-the-buck hardware-to-price ratio and to be sold under the dreaded invite system, though, it's far easier to obtain one these days.
No matter the questionable selling tactics and
controversial marketing campaigns
, OnePlus seems to be doing something right, as the company's popularity is slowly, but steadily growing. So there is no reason not to believe that we might be seeing a OnePlus 3 "flagship killer" smartphone, some time in the next few months.
Rumors about the upcoming phone have already started popping up and, needless to say, leaksters claim that the next OnePlus will carry a Qualcomm Snapdragon 820 under its hood. This is hardly surprising – OnePlus has so far outfitted its flagships with the latest and greatest from Qualcomm, and we see no reason why the OnePlus 3 would break that tradition. What's interesting, however, is that the leakster says the new phone will have a 1080 x 1920 resolution. If true, this would mean that OnePlus is still refusing to jump on the QHD (1440 x 2560) bandwagon. 1080p means the phone's processor and battery shouldn't be bogged down, all the while the display would remain crisp and detailed enough for a pleasing image. Of course, these are just rumors with limited credibility, so don't scratch QHD off your OnePlus 3 wishlist just yet, if you happen to have it there.
Below, we have a couple of alleged renders of the new device. Assuming anything we see on these images is a real OnePlus render, the design language will remain close to the OnePlus One, with slight enhancements and touch-ups here and there. We can also see some weird stripes along the edges of the device, but, as of right now, we can't be sure what these are supposed to be.
What do you think? Are you already eager to start waiting for a OnePlus 3 invite?