Alleged Galaxy Note 3 prototype leaks out, lets us see the internals
27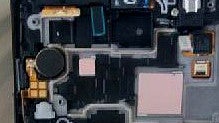 Two pictures of an alleged
Galaxy Note 3
prototype mule have appeared, coinciding with
the other recent leaks
. This seems to be just a late engineering phase unit with the screen tacked on, but not wrapped in the actual chassis, so we can't judge on the design just yet.
What the prototype seems to reconfirm is the general elliptical shape of the home key underneath the display, as well as what appears to be a stylus silo.
The source says a Samsung logo is present, but we can't really vouch for the accuracy of Google Translate, when it returns something like this: "
front panel urine resistance, finishing Material years plastic material point of view, should be the next generation note3, white labeling is Samsung LOGO, left for the device number, the prototype has, traces back to look at the overall design followed the 9100 alignment style
..."
Recommended Stories